International Artist Day was launched in 2004 to honor the contribution artists make to society.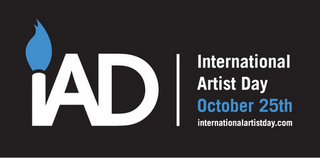 IAD has grown steadily in popularity around the world.
Artists and their supporters in cities everywhere celebrate IAD. With the help of municipal and corporate sponsors they promote festivals and events designed to increase the visibility of art and artists in a wide variety of genres from painting, to writing, music, the digital arts, and everything in between.
IAD 2023
We are part of the White Rocks Arts Festival Culture Crawl Oct 14-15, and some of our professional artist friends will be dropping by to meet and greet clients, other artists and the general public at our studio.
SOME OF THE ORGANIZATIONS SUPPORTING IAD BY 2023
THE NEW YORK MET ∙ CIRQUE DU SOLEIL ∙ NATIONAL FILM BOARD ∙ THE DALI MUSEUM ∙ CURRIER MUSEUM ∙ SUNDANCE INSTITUTE ∙ FLEICHER STUDIO ∙ ARTSCAPE ∙ ART CANADA INSTITUTE ∙ NEW YORK METS ∙ CREATIVE EUROPE ∙ ART GALLERY OF ONTARIO ∙ HISTORY TV ∙ ART BIZ BLOG ∙ CLEVELAND POPS ORCHESTRA ∙ ULSTER MUSEUM ∙ VAN GO ART ∙ NATIONAL GALLERIES OF SCOTLAND ∙ QATAR FOUNDATION ∙ RIJKS MUSEUM ∙ NEXA EXPERIENCE ENGLAND ∙ VAN GOGH VODKA ∙ SAN FRANSICO BALLET ∙ DAILY PLANET ∙ Step and Repeat La ∙ KNSS WICHITA ∙ THE GUILD WARS TEAM 2 ∙ SOUTHERN UTAH MUSEUM OF ART ∙ ONTARIO HERITAGE FUND ∙ AVATAR OFFICIAL ∙ UNIVERSITY OF SYDNEY AU. ∙ ARTS BC CANADA ∙ PUBLIC SERVICES CANADA ∙ BALTIMORE MUSEUM OF ART ∙ ACTRA TORONTO ∙ SPUTH AFRICA STATE THEATER ∙ JUILLARD SCHOOL NY ∙ PANTONE ∙ STEPPING STONE SCHOOL AUSTIN TX ∙ ACADEMY OF ARTS UNIVERSITY SF ∙ UNICEF USA ∙ REUTERS NEWS AGENCY LONDON ∙ REDROCKS CO ∙ CASTLE LAGER SA ∙ HUDSON RIVER MUSEUM ∙ YOUNG AUDIENCES INC. NY ∙ RED BULL
NATIONAL ENDOWMENT FOR THE ARTS ∙ PEABODY ESSEX MUSEUM ∙ CLEVELAND PUBLIC ART ∙ THE JAMES MUSEUM ∙ FABERCASTELL ∙ ARTS CAN ∙ QUANTUM THEATRE PITTSBURG ∙ GOVT OF PAKISTAN ∙ ADOBE CREATIVE CLOUD ∙ DOCTOR WHO OFFICIAL ∙ DROPBOX ∙ LINCOLN CENTER WASH ∙ FOX TV ∙ GOVT OF CANADA ∙ GLOBE TELECOM ∙ JERUSALAM FOUNDATION ∙ NEW YORK FILM ACADEMY ∙ WOMEN IN CANADA ∙ CAMBRIDGE DICTIONARY ∙ AIGA LOS ANGELES ∙ ARTCAN UK ∙ LAHORE MUSEUM PAKISTAN ∙ PEACE CORPS ∙ BOYS & GIRLS CLUB INDIANAPOLIS ∙ FUTURE FIRST UK ∙ MERASS DUBAI ∙ MORGAN ORTAGUS ∙ US STATE DEPT ∙ NEW JERSEY DEPT OF ED ∙ AMTRAK ∙ KASHMIR LIFE ∙ MUSEUMS OF INDIA ∙ ART MUSEUM GERMANY ∙ HOLLAND AMERICAN LINE ∙ NATURAL HISTORY MUSEUM L.A. COUNTY ∙ SENATE OF CANADA ∙ GOOGLE ARTS AND CULTURE ∙ RIVER CITY BANGKOK ∙ CITY OF FORT LAUDERDALE US ∙ US COAST GUARD ∙ TWINKL.CA ∙ ARTSPHERE.ORG ∙ ARTFINDER.COM ∙ SOCIETY FOR SPACE EDUCATION & RESEARCH ∙ RIVER ARTS DISTRICT ASHVILLE NC ∙ EDEN GALLERY ∙ THE ANSEL ADAMS GALLERY ∙ AMPLIFIED ENTERTAINMENT PHILLIPINES ∙ LOUVRE ABU DHABI ∙ WESTMINSTER ABBY UK ∙ TEVTA PAKISTAN ∙ STAGHAND ∙ RODEOHOUSTON US ∙ GUILDHALL ART LONDON ∙ ARTWORK ARCHIVES ∙ DISNEY PRINCESS ANIMATION ∙ NATIONAL GALLERY OF MODERN ART DELHI INDIA ∙ NEW MEXICO STATE UNIVERSITY ∙ MICROSOFT365 ∙ KOESTLER ARTS UK