We're five months in and loving it – again. So perfect for a studio. Didn't realize how much I missed actually going out to work in a space that expresses so much creativity and yet affords us the chance to meet new folks every day.
As many of you may remember, we were in this same location all during the pandemic event. It seemed more people were out and about, being confined to home and masking took its toll and a trip to the beach was a treat indeed.
Love to see everyone again, please drop by and check out our newest works and wearable art collection.
We never mind putting down our brushes to say hi and catch up with old and new friends. Also, Chris is starting up his painting classes again, as you know he's a great teacher, one on one or in a small group.
And by the way, International Artist Day is coming up, Oct. 25th, we're involved to help celebrate White Rocks Arts Festival and are having some of our professional artist friends drop by the weekend of Oct. 14th & 15th to meet and greet clients, other artists and the general public at our studio.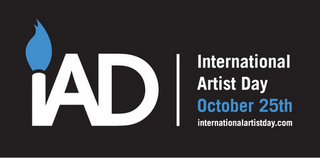 We're open every day 10ish to 5ish with 4ish being "wine-o-clock". Hugs M